Perc Dry Cleaning Machine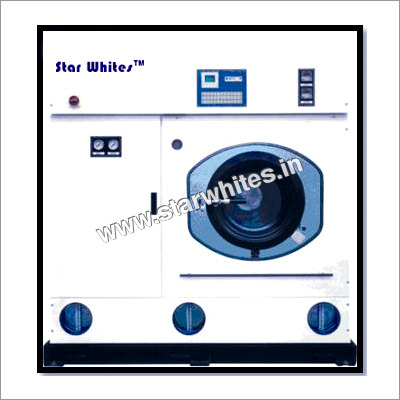 Perc Dry Cleaning Machine
Product Code : 15
Brand Name : STAR WHITES LAUNDRY
DRY CLEANING MACHINE


We are a designer and developer of the most modern Perc dry cleaning machine, provided in a number of models with capacity from 8 to 35 kg. All dry cleaning requirements can be fulfilled with the machine with a quick drying system, heat pump and computerized controls.

FURTHER DETAILS:


LOADING DOOR: Larger dimensions for easy loading and unloading, together with security device for operator's protection
BASKET: Geometrically designed, accurately dimensioned SS basket for the best cleaning results
AIR TUNNEL: Single piece solid air tunnel for low turbulence in air flow, allowing efficient and fast drying of laundry
CONTROL PANEL: Easy to access panel is apt for automatic and manually controlled operations. The control panel in the automatic version has technically-advanced computerized control system for dry cleaning all kinds of garments safely.
CONTROL PANEL: All phases are accompanied by computerized controlled panel. Illuminated "pushbuttons" are pushed to select the operations.
AIR FILTER: There are primary and secondary air filters for an easy use and simple maintenance.
DISTILLATOR: Built-in SS distillator for excellent distillation capacity and its continuous system allows clean solvent filling. It features larger door and collector for ease in cleaning distillatory.
WATER SEPARATOR: This SS separator can separate solvent from water whilst avoiding flow of vapors in atmosphere.
SOLVENT TANK: Provided with two or three base tanks (as per model), the solvent tank features a lower gravity centre that allows to keep lower noise level. All tanks are provided with tampered inspection glasses.
| | | | |
| --- | --- | --- | --- |
| Technical Details | | | |
| capacity | 8 kgs | 15 kgs | 25 kgs |
| volume | 160 Lt | 300 Lt | 500 Lt |
| Diameter | 700 mm | 830 mm | 1000 mm |
| Depth | 415 mm | 560 mm | 640mm |
| Wash Speed | 40 rpm | 34 rpm | 34 rpm |
| Extract Speed | 450 rpm | 400 rpm | 380 rpm |
| Door Dia | 350mm | 500mm | 500 mm |
| Wash Motor | 0.5 Kw | 0.75 Kw | 0.75kw |
| Extract Motor | 1.5 Kw | 2 Kw | 3.0kw |
| Pump | 0.75 Kw | 0.75 Kw | 0.75x2kw |
| Fan Motor | 0.75 KW | 0.75 Kw | 1.50kw |
| Refrigerator | 2 Kw | 2.5 Kw | 4.8 kw |
| Air Compressor | 0.75 Kw | 0.3 Kw | 0.3 kw |
| Drying Heater | 3.6 Kw | 4 Kw | 9 kw |
| Still Heater | 6 kw | 9 Kw | 12kw |
| Nylon Filter Tank 1 | 90 Lt | 100 Lt | 180 lt |
| Nylon Filter Tank 2 | 90 Lt | 100 Lt | 180 lt |
| Nylon Filter Tank 3 | 50 Lt | 100 Lt | 180 lt |
| Distillator | 70 Lt | 145 Lt | 260 lt |
| Weight | 800 kg | 1450 Kgs | 2350 kg |
| Dimension (lxbxh) | 1400 x 1900 x 1500 | 2225 x 1500 x 1940 mm | 2250x1750x2280 mm |
DRY CLEANING MACHINE >>> Perc solvent based

Model

Capacity
(Kgs)

Basket Size
(MM)

Total Power
(K.W)

Dimensions
LxDxH (mm)

Net Weight
(Kgs)

PDC-6

6

Dia 650 x 340

11

1490 x 1080 x 1680

700

PDC-8

8

Dia 690 x440

12

1550 x 1080 x 1820

850

PDC-15

15

Dia 830 x 560

15

2225 x 1500 x 1940

1450

PDC-25

25

Dia 1000 x 640

25

2250 x 1750 x 2280

2350
STAR WHITES INDUSTRIES
Plot No. 2, Sri Sai Enclave, Opp. Mahender Reddy Garden, Bowenpally, Secunderabad - 500011, Telangana, India
Phone : +918068213433
Mr. Bhagwan (Managing Director)
Mobile : +918068213433